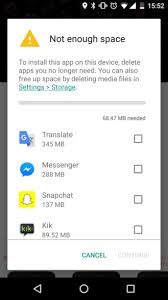 Annoyed by this message on your Android device – "Not enough space to install an app or update an app……."? , then this piece of the write-up is for you, explaining the cause of the problem and a couple of tried and tested solutions to get rid of the problem and ensure smooth installation of apps on your Android device.
Most of the Android users must be wondering 'Why the hell is it complaining about storage on my device when it has required storage the app needs?' but practically that's not the case. The device may have the available space for the app to install or update but it may not have the required space to perform the installation process and execute it.
A mobile device, even with 32 GB of storage capacity, has less space to store apps and other multimedia data, as majorly the storage is consumed by Android's Operating System, built-in apps, preinstalled apps and other miscellaneous files.
Android apps have three sections of storage space to use: first for themselves, second for app's data files, third for app's cache. While the space on other two remains constant, the third can grow larger and larger on continuous usage. Although the cache storage space is often notified as free space by Android, this does not work for app installation when required.
So, next time when you get the 'Not Enough space …' message on your device, first try to empty app cache to see if that works for the installation.
Steps to delete app cache from phone memory:
Open the Settings, tap Applications, or Applications Manager. Here, you find a list of all apps and the amount of storage space being used by them.
Tap the Menu or More button and choose Sort by Size to list the apps in descending order of storage space used.
Tap an app to check the storage space it is taking, both the app and app data (the Storage section) and app cache (the Cache section).
Tap Clear Cache to clean its cache from the device and empty that space. Remember that if you tap Clear data, it removes all your files related to the app and the app will work like a fresh app installed.
Do the above for all the apps installed on your device.
Note that clearing the cache may not solve your problem every time. This is because external storage devices such as SD card will not have much space for most of the app's data resides on device storage.
The next thing you can do is transferring the apps from device storage to SD card storage. Note that not all apps can be moved to SD card, the core inbuilt apps will remain on your device storage and cannot be transferred.
Steps to transfer apps from device storage to SD card storage:
Open Settings, go to Applications
Tap Application Manager
Tap on the app that you want to move
Tap Storage
Tap CHANGE
Select Storage Location as SD Card
MOVE
Hope this helps you. Have a great day !!!
.
(Visited 544 times, 1 visits today)