Setting up a website is essential today to grow every business.But most of small business owner don't choose the way to grow their business & the crowd goes to follow conventional way.This is because they think their is huge investment required to setup their small business website.But their is tons of small web hosting company which sell hosting at cheaper price.Now you may think about design cost?Don't worry! If your website is very small & limited to 4-5 pages then either you may choose drag drop site builder which is very easy to use or you may hire a freelancer like who will do your job at affordable price.
In this post , i shall not discuss about the necessity of a website which you may read in my another post  why every business require a web presence rather i will discuss how to do the job  done.Also in each process we will give an approximate yearly expenses to maintain that service.
This guide will help you to successfully build your own website today.To make the process simple we will break the post in few part.
Part 1: How to buy web hosting online which i am discussing now
Part 2: How to build my first website without coding
How to buy web hosting online
In this article we will use hostpad.org which is a SSD powered reliable web host and the service is at affordable cost.
Step:1
Go to Hostpad.org
See there is four plan currently available ,but are you feeling hesitant which plan to choose?
If your requirement is 4-5 page website then you don't have to buy much web space or much bandwidth just select Starter One and if you planning to set up blog later along with static page then choose unlimited.It certainly depend upon your use which plan to choose.
Now i am selecting starter one for this tutorial purpose.Starter package only cost me Rs 120/year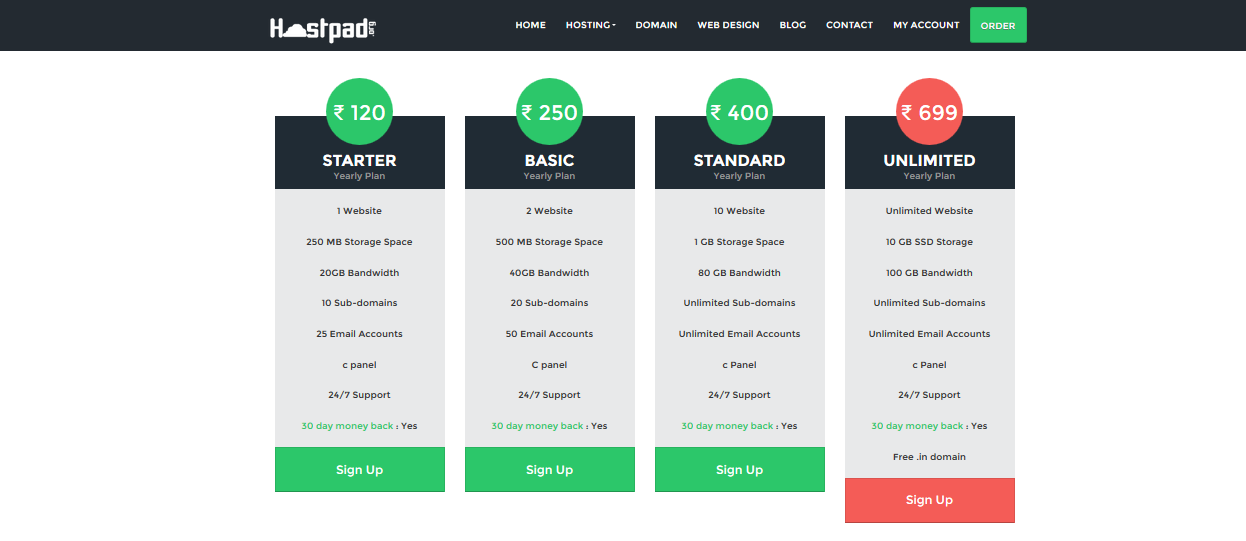 Step:2
Once you clicked to signup , you will be redirected to domain option page.In domain option page there is three option you may buy a domain, or you may transfer your existing domain or you may edit name server of your existing domain.
If you would like to buy a domain then enter it's name &select extension & then click check availability.If the domain is available then click buy.
An .in domain is only cost Rs 230 which is very cheap.So your total cost at that moment is Rs 350.Though renewal cost of domain is Rs 550.

If you would like to transfer your already existing domain then you may choose second option.Transferring an .in domain cost Rs 550 INR.

And the third option is for you if you don't like to buy or transfer a domain ,just want to link with your existing domain with other provider or hostpad.

Once your selection is over just click on continue.
Step:3
At this step , select your hosting term(1 year or 2 Year) & click check out.
If you choose to buy a domain then You will be redirected to Domains configuration page.At this stage hostpad is giving three free service which other domain provider may not give. Select all three free service ,
Now click update cart.
Step:4
In this step you have to confirm your order .Once confirmed all the details .Proceed to check out.

Step:4
In this step you have to just login if already have account with them or you have to create an account.Once logged in your account choose your payment method & complete the process of buying domain & web hosting.
After getting your order the company will starts preparing your order & in few minutes you will get your product delivered.
Here product means , information related to your web server , domain name etc.
Once you have your hosting & domain ready you may proceed into our next tutorial How to build my first website without coding
(Visited 245 times, 1 visits today)