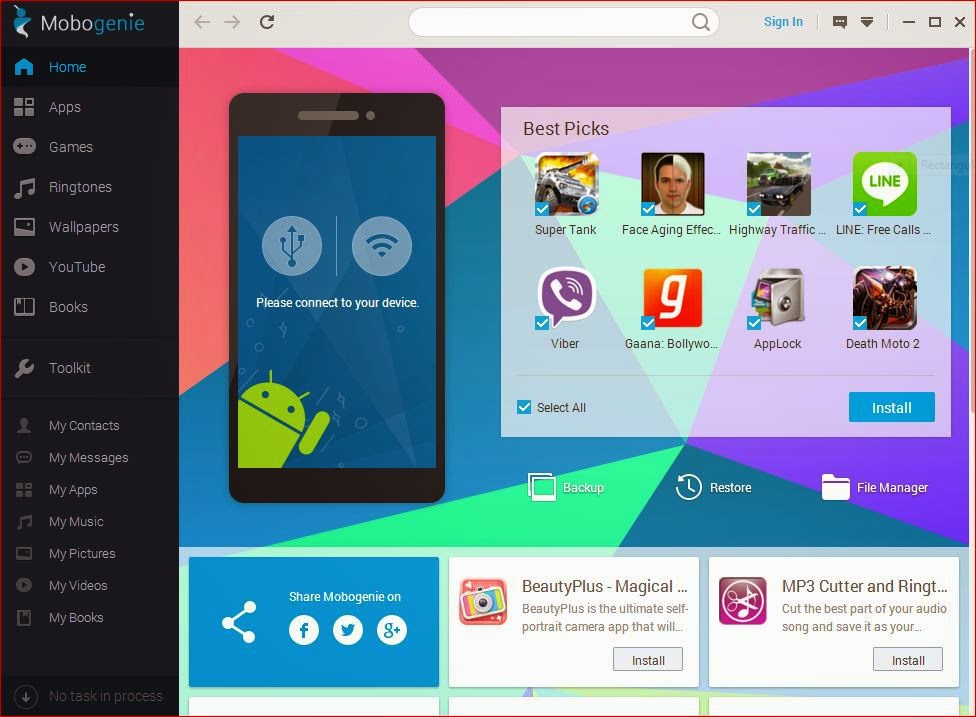 Before using Android I was a Nokia S40 series mobile phone user.From that time I always feel the requirement of Mobile Device Management Application for PC.Nokia had their own application management software "Nokia Suite" or "PC Suite" for their Mobile phone Nokia s40 or s60 series.Mobile giant Samsung also had their PC suite in old s60/s40 devices.But after innovation of Android , they don't release their smart phone manager for PC.
Yes Samsung, Motorola. HTC or any other android makers are right on their decision.Today in smart phone's world internet on way make application download more easy and managing smart phone does not require a management application.But still i believe there are some advantages of Using Smart Phone Managing Application for PC. You can read my article on why smart phone manager for PC required?.
As Device Maker's does not release official version of Android Application Management Software, So we have to depend on some third party application management software.Here is again one question Which one to choose?
I personally prefer mobogenie as my Android PC manager.Also there are too many android manager for pc.I will write review all of them one by one and detail usage guide.But before that I am concentrating on Mobogenie Review.
Best Key Features:
i. It automatically detects your phone when you connect your phone to PC.Read How to connect Mobogenie to Aandroid?
ii. You can download any google play application using your PC brodband and easily install it. Read How to download android application on PC?
iii. You can take screenshot of your device at any time.Read How to take android mobile screen shot with mobogenie?
iv. You can manage your contacts from PC.You can add, edit or delete your contact no.Mass delete contact no also possible with mobogenie.
v.Managing message is easy with this application.Mass messeging was not as easy before.
vi.Most advantageous features of mobogenie is that you can manage all your android application with this PC software.Downloading google play apps without sign in, and automaticlly install it.Time to time apps update notification also shown in home interface.You can update your all apps update just in one click.Read How to update apps on Mobogenie?
vii.You can also manage your all music, movie, pdf just in single click.
viii.You can manage your memory with file manager for android.But if you desire to do it with file manager then mobogenie can manage your memory card either internal or external.
Read Best File Managing Apps For Android . How to manage memory card with mobogenie?
ix.You can always take a back up for your device.Read How to back up android device?
x.You can use either USB or Wifi to connect your phone to mobogenie.
xi. Last but not the list ,It's free for pc use.Though premium version for mobile available.
Problems with mobogenie:
i.Your pc needs more than 2 GB ram.Otherwise it slows down your computer.
ii.Mobogenie does not take your permission to install downloading application.
iii.Start during starts up and connecting device.
iv.Mobogenie automatically install their android app to mobile.They ask your permission but that can't be ignore.
Except the above mentioned problem.I am a happy user of mobogenie. I am giving a download link of mobogenie below.Download the program install it and overflow your views on comment box.I will write more android tutorial with mobogenie. just sign up for our email newsletter to get updated.
If you like this post consider sharing on social network.
(Visited 433 times, 1 visits today)