Bsnl Broadband connection and land phone connection can be disconnect by through 2 methods. Here it is describing format and procedure for disconnecting bsnl
>>BSNL Disconnection through Online
Go to Respective Bsnl Portals
>http://selfcare.edc.bsnl.co.in/ for Eastern India
>http://selfcare.wdc.bsnl.co.in/ for Western India
>http://selfcare.ndc.bsnl.co.in/ for Northern India
>http://selfcare.sdc.bsnl.co.in/ for Southern India
>Register if you don't have an account
>Sign in using your registered user name and password
>You can see a page like below


Click on services you will come to a new page given below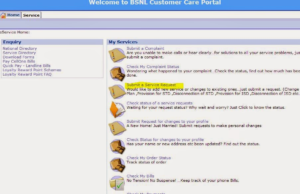 Click on Service request you can see a new page asking Serivice Id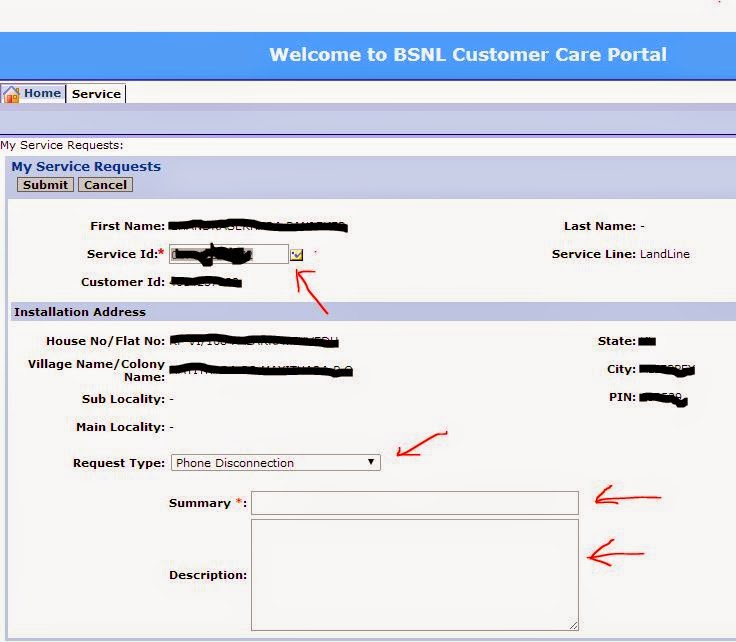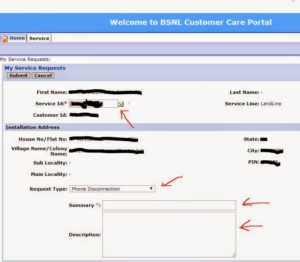 Fill the data required such as Service Id,Request type,Summary and description (Shown red arrows here)
>Click "Submit"
>>Through Customer care Centers
           This is the traditional way to disconnect your  broadband connection you have to visit nearest customer care center and give a written request for disconnection They will give you an official foam or surrender bsnl connection
Example of request letter for disconnection
To,                                                                                                                     Date
BSNL Customer Care
Your Place
Sub: Surrender of my BSNL Landline/Broadband <Your phone number which is to be disconnected>
Sir,
I would like to surrender my  BSNL Landline/Broadband <Your phone number which is to be disconnected> since I am not using the same. Kindly do the necessary steps.
Enclosed are:
>  Surrender form duly filled
>Copy of latest telephone bill
>Please also disable any services availed.
Eagerly  waiting for your action
Thanking You,
Yours Sincerely,
Your Name
Your Address
Mobile: Your Mobile Number
Mobile: An Alternate Mobile Number
These procedures can be use all over india including jaipur, haryana, nagpur, jharkhand, chennai, bangalore, karnataka, Ap, Andhra Pradesh (AP), Arunachal Pradesh (AR), Assam (AS), Bihar (BR), Chhattisgarh (CG), Goa (GA), Gujarat (GJ), Haryana (HR), Himachal Pradesh (HP), Jammu and Kashmir (JK), Jharkhand (JH), Karnataka (KA), Kerala (KL), Madhya Pradesh (MP), Maharashtra (MH), Manipur (MN), Meghalaya (ML), Mizoram (MZ), Nagaland (NL), Odisha(OR), Punjab (PB), Rajasthan (RJ), Sikkim (SK), Tamil Nadu (TN), Tripura (TR), Uttar Pradesh (UP), Uttarakhand (UK), West Bengal (WB), ahmedabad, coimbatore etc
The following two tabs change content below.
Satyam Baral
Hello readers, First of all thank you for reading the post & reading about me.I mostly blog on technology, day to day tricks & other things which i mostly stucked on my daily life.Beside technology blog , i have a personal blog mostly contains my poem.You may visit at satyambaral.blogspot.in
Latest posts by Satyam Baral (see all)